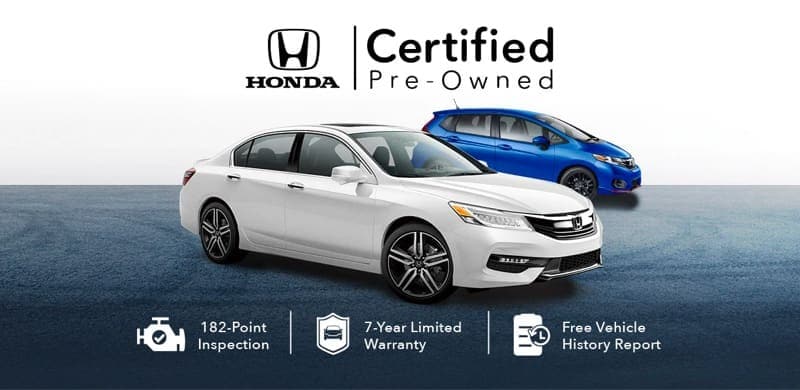 Certified Pre-Owned
Nothing compares to the quality of a Honda. No other program comes close.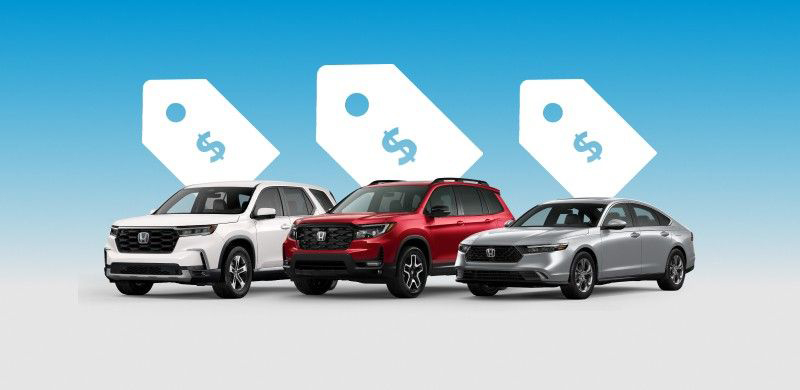 Current Offers
See this month's featured current offers going on now on new Honda vehicles.
Our Reviews
We got every question answered, which didn't happen at the previous dealership. Superlative knowledge!
Jared was so helpful and made the process of buying a vehicle simple. Rhianna made the financial aspect of it so quick! Thank you again for a great vehicle and deal!
Rick Versteeg was the salesman.. He was kind and considerate, and did good, when he sold me the car. Casey Maunu, the Honda Specialist, helped also, and went out of his way to ensure the closure of the deal. Thank you!
Rick and the whole Honda team made for the best car buying experience. I got what I wanted for a fair price.
Everyone is so willing to help you, has a smile on their face and guides you through everything with no hassles! I absolutely enjoy the people I've had the pleasure of buying my car through
Jared was amazing to work with. He was friendly and always available if I had any questions.
Super happy with these guys. I shopped around quite a bit online and these guys were able to give me the best deal on a 2021 Honda CRV Hybrid. The price given to me when I drove an hour to the store was exactly what was quoted to me online/ on the phone. No attempts to upsell me on anything in the finance office either. Much appreciated!
Absolutely wonderful experience with every question addresses. Can't say enough about great service. Buying a car has been adventure until this dealer, will return again.
Best service department in the state. I was from out of state. Needed some help in a short time period. I could not believe the excellent service. Highly recommend!
Jared was professional in the process of selling me a car. He wasn't pushy, which I despise. He showed me the features and worked with me. I feel this young man will go far because of his honesty and wanting to meet the customer needs, plus his knowledge of the vehicle's. The finance lady, Kai was also doing everything to meet my needs. She also was very knowledgeable and professional. Please don't make her hurry in doing her job; She is amazing at what she does.
I had a great experience! Rick was a chill, no pressure salesman. I love my new CRV Touring! See you all next time! 1 2
Mitch was nice and very helpful. My buying process was quick easy and painless. Actually fun and exciting! Thank you Mitch! I love my truck!
Aaron was amazing at getting me a great deal on my vehicle! Honda bought my car for a great price and got me some extra cash in my pocket. Aaron really went above and beyond for me. Thank you!
We bought our first new car from Roseburg Honda last week. The entire transaction was set up on the phone and via email. Rick was fantastic and made the process simple. After we agreed on price, which was less than our local dealerships, he arranged for the car to be delivered to our home over 100 miles away. The paperwork was with the driver and that took about 10 minutes. Can't say enough positive things about Rick. We recommend him without any reservation.
Rick was really great. He aided in my test driving of several vehicles, provided pertinent information, and gave me room to decide how I wanted to proceed. He worked very hard to get me the deal I needed and wanted.
Everyone was so nice and took great care of us. First time buying a car and they got me an amazing deal on a fantastic vehicle. I would absolutely recommend them to everyone!
Rick was great to work with. He was very patient and understanding. I won't go anywhere else in Roseburg to buy a car. They really do treat you like family.
Rick VerSteeg is a dream. He was patient, caring and genuine. He heard me and made sure I got the car I wanted! I can't say enough about my experience @ Roseburg Honda. And I wasn't the "ideal" auto buyer by any stretch. Do yourself a HUGE favor and contact Rick VerSteeg at Roseburg Honda. I wouldn't deal with anyone else! Simply the best.
Rick was very professional and informative on my questions when I contacted him. I will ask for him again when I need anything else. Thank you.
In the 2016, I brought a new Honda Odyssey from Rick at Roseburg Honda Now almost 400,000 miles later, I came back again and bought another vehicle from Rick and the team at Honda. Rick makes buying a car pleasant and easy. Ken, Carol and Mike in the Service Department have taken care of me and my vehicle over the years. They make me feel understood and helped me take care of my van over 13 years. Roseburg Honda really does treat you like family! It's been a great relationship and I highly recommend them.
I've now purchased 2 vehicles from Roseburg Honda. I've been very happy with their service and the care they've taken with making sure I'm happy with my purchase. Both times, they delivered my vehicle to the coast. Highly recommended!
I called and talked to them about the Truck we bought. We went in to text drive. Everyone there was wonderful to deal with. We went and looked elsewhere at a couple of other trucks. We were back on there lot within 30 minutes and bought the truck we were shown. The entire dealing with them was easy and great. I would definitely recommend them for a great car buying experience.
Everyone at Roseburg Honda is a pleasure to work with! I highly recommend going to them for all your car buying needs and I even love their service department as well! If you are looking to buy a car go see Josh Lampton at Roseburg Honda and he will take great care of you!
We bought a Ridgeline last week- We dealt with Rick- He was friendly and professional- It was the best experience we've ever had buying a car- We felt no pressure- We made a new friend with Rick- We would recommend this dealership to anyone
I walked into Roseburg Honda with little to no hope of being approved for a car up to my standard. I was upside down on a car I didn't like, and I knew banks were going to give me a hard time. Rick, the salesman, was an amazing help. He walked me through the process, kept my spirits up, and was so friendly. He was honest, and refused to let me sign for something that wouldn't make sense, keeping my best interest as a priority. Unfortunately, I walked out initially without a new car, but still hopeful that within 1-2 months I'd be back. I received a call from a credit union a few hours later who informed me Aaron from their finance office reached out, and they asked just a few quick questions. This resulted in me NOT ONLY being financed, but at a rate 7% lower than anticipated, with NO money down. I cannot express enough how incredible Rick and Aaron are. They worked so hard, even after I left, to make sure I got what I wanted. More importantly, they kept my bottom line as a priority. I am now a loyal Roseburg Honda customer.

Welcome to Roseburg Honda
Why Choose Roseburg Honda?
First of all, deciding where to purchase your next vehicle from is just as important as the vehicle itself. Roseburg Honda will treat you to a world-class experience by our staff of automotive professionals. We truly have a passion for the automotive industry and enjoy helping people find their next vehicle.
At Roseburg Honda we are proud to serve the great communities surrounding our dealership. Likewise people have traveled from Eugene, Springfield, Grants Pass, Cottage Grove, Coos Bay, North Bend, Medford, and Sutherlin to Roseburg Honda for our great selection of quality vehicles at fair and competitive prices. Our Honda inventory ranges from cars, vans, trucks, SUVs, crossovers, and hybrid vehicles. In addition to our great selection of new Honda vehicles, Roseburg Honda also provides an extensive pre-owned inventory as well.
When the time is right, make the short drive to our dealership location at 1950 NW Mulholland Drive, Roseburg, OR 97470, conveniently located just off I-5. We are just a short drive from Grants Pass, Glendale, Canyonville, Myrtle Creek, Winston, Sutherlin, Creswell, Eugene, Coos Bay, and Bend. At Roseburg Honda, enjoy your test drive, feel free to compare, and inquire about vehicles you have interest in. Our professional sales team is ready to help answer any questions you may have. Certainly contact us online or by phone at (541) 537-4048.
Get Directions To Roseburg Honda